Sat 25 February 2017 | -- (permalink)
France is famous for its beaches, so we've put together a list of the seven most enchanting beaches in France. These beaches will never disappoint and you are guaranteed to have a great time, whether it's sunbathing, dining out, or swimming in the ocean.

1. Palombaggia Beach, Porto Vecchio, Corsica
Location/Features
Palombaggia Beach is a 15 minute drive south of Porto-Vecchi and is surrounded by mountains and pine trees. This two kilometers long stretch of beach is classified by UNESCO as one of the best beaches in the world. Rich in color, the beach is enclosed by two pink granite headlands with soft white sands and shallow crystal clear water. It would be perfect place for some inflatable kayaks, if you have them.
Facilities
Adding to the enchantment are the straw huts on the beach that sell beach toys or operate as restaurants and bars. The southern end of the beach is perfect for snorkeling with some rocky areas and a small reef. In the summer, there is a lifeguard on duty and a range of water sports are available. Popular with the French and tourists alike, expect crowds in the summer. Arrive early in the day, or head to the less crowded southern end of the beach.

2. Plage des Marinières, Villefranche-sur-Mer

Location/Features
You can't compile a list of French beaches without including a beach from the Riviera that is far enough away not to be overcrowded. It's also one of the few beaches along this coast that is not private, so don't have to pay an entry fee. With the backdrops of the old town of Villefranche-sur-Mer and steep cliffs, this beach is very picturesque. The turquoise water is clear, and there are small reefs not far from shore for snorkeling. This beach is frequented as it has sand rather than pebbles.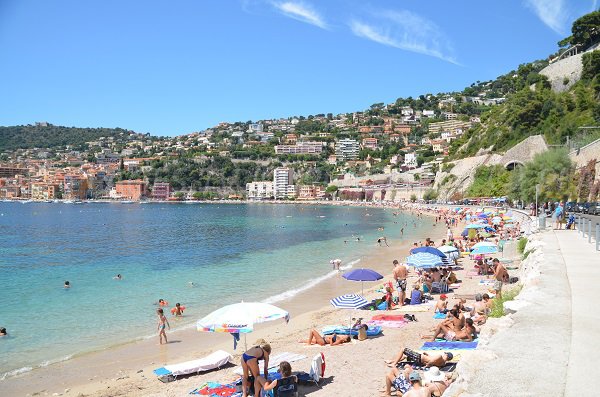 3. Paloma Beach, Saint-Jean-Cap-Ferrat

Location/Features
Just east of Nice, this small, private, pebbled beach is named for Paloma Picasso and is reached by climbing down a steep set of steps. The pristine blue water and views of the surrounding mountains make the climb worthwhile.
Facilities
The beach has a restaurant and bar as well as a sun lounge and fitness center. There is also valet parking and an extensive range of water sports is available, from jet skiing to scuba diving.

4. Etretat Beach, Calvados

Location/Features
Located in Normandy, this beach has provided inspiration to many famous writers and artists. Fishermen's boats dot the pebbled beach and sheer white limestone cliff faces dominate the skyline, creating a breathtaking view. You would fit right in on an Oru Bay Plus Kayak, talking with the locals. At either end of the one kilometer beach, the water has eroded a natural arch into the limestone cliffs that jut into the water.
Facilities
A lifeguard is on duty during summer months. A promenade runs the length of the beach, and there are restaurants, bars and lots of available parking for beachgoers.
5. Gruissan, Narbonne

Location/Features
A 20-minute drive from Narbonne, this beach lies on the Grazel Lagoon. In the past, the village purchased land on the beach to erect a beach hut built on stilts for locals to use. Now holidaymakers can rent out these huts that have basic electricity and running water. A wide sandy beach is dotted with palm trees and the waters are home to pink flamencos.
Facilities
There are many nearby restaurants and bars. Some water sports are available in the summer season.

6. Plage de St. Vincent, Collioure

Location/Features
This beach is just a few miles from the Spanish border in the Pyrenees, and foundations for the 17th-century Chateau Royal are located on the beach. Brightly colored fishing boats dot the water and pastel buildings line the street behind the beach, making it hard to take a bad photo here. Looking out from the beach you can see the picturesque Bay of Collioure. The beach is a mixture of fine sand and pebbles, but there are larger stones in the water, so footwear is advised.
Facilities
St. Vincent is a small beach with limited parking. There is a lifeguard on duty during the summer. Sun lounges are available, and there is a range of water sports available.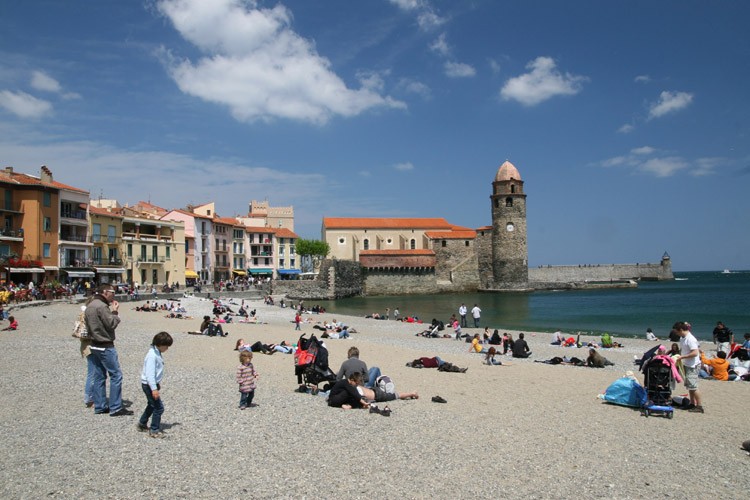 7. Plage de l'Ecluse, Dinard

Location/Features
Located in Brittany, this is the main beach in Dinard, and features sweeping white sands with high cliffs that mansions built in the 19th century cling to. Tides go out quite far, leaving natural rock pools that you could investigate in a kayak, which you can read about here.
Facilities
An Olympic sized salt water swimming pool is located on the beach. There is also a first aid station, many restaurants and bars and a kid's club.